What is a uniform, you ask? Basically, whatever outfit you find yourself gravitating towards when you're getting dressed in the morning and just want to throw on something easy. For example, my dad's uniform is "pocket pants" and a t-shirt with socks and sandals (just kidding dad you know we love your pocket pants too).

Anyways, without putting much thought into it, I find I tend to end up wearing (some variation) of this -
01. shirt - ZARA // 02. necklace - ardene // 03. sunglasses - aldo accessories // 04. bralette - ginger lily // 05. purse - thrifted // 06. shorts - thrifted / DIY
Alright well, I'm not going to really talk about the shirt because it's literally just a black t-shirt, but I wear it all the tiIIiime! I usually end up wearing pretty neutral colors - lots of black and grey. Mostly black. Honestly, half of my closet is black.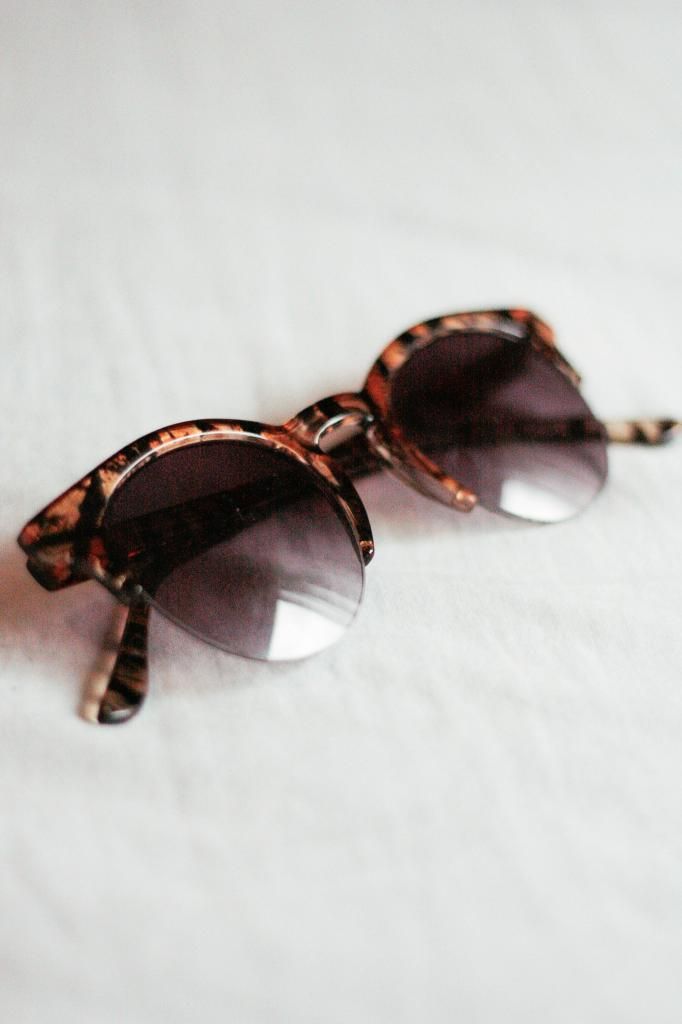 I got these sunglasses from aldo accessories at the end of last summer. Come to think of it, I bought them because the last ones I owned broke. I really loved the last pair I had so I was pretty choked when the arm fell off, but they were only like 3 bucks or something so whatever.
I almost always have a pair of sunglasses with me, you know, just in case of a really bright emergency. But they usually end up in the bottom of my purse...which is probably why they break so often. I've never been a person to buy expensive sunglasses because I honestly break and/ or lose them way too often for it to be worth it, and I tend to find that I like the cheaper ones just as much anyways.
PRO TIP:
Aldo accessories usually has pretty spankin' sunglass deals at the end of summer (like 2 for 10 bucks or something) and that's always when I buy mine. I think these ones were 6 dollars (?) last august and they're still holding strong almost a year later!
I also almost always wear some sort of necklace these days. Usually it's a little gold one (seen in
this
post) because it's small enough to not get in the way (get in the way of what? I have no idea. you never know when someone's going to ask you to operate heavy machinery), but lately I've really gotten into STATEMENT necklaces. And the STATEMENT I'm making is "please don't ask me to operate heavy machinery because my necklace might get caught and I might die". What am I talking about.
I got this necklace, along with a bunch of other ones, at ardene earlier this year on some ridiculous 5 for $10 deal or something.
This bralette. Changed my life. If you're a female and don't own one of these PLEASE START OWNING ONE YOU WILL BE SO HAPPY. You can buy them almost anywhere so go do that. Since buying this my comfort levels have sky-rocketed, I've made 18 new friends, and I got a raise!
Two of those things are lies!
Most of (all of) the purses I use are black so they go with virtually everything. I talked about this purse in my
wishlist haul
post a couple weeks back. It's still awesome though! It's just a bit bigger than a clutch, so it's the perfect size for my wallet and a pair of sunglasses to get smashed at the bottom! (I'm going to buy a case for them soon I swear).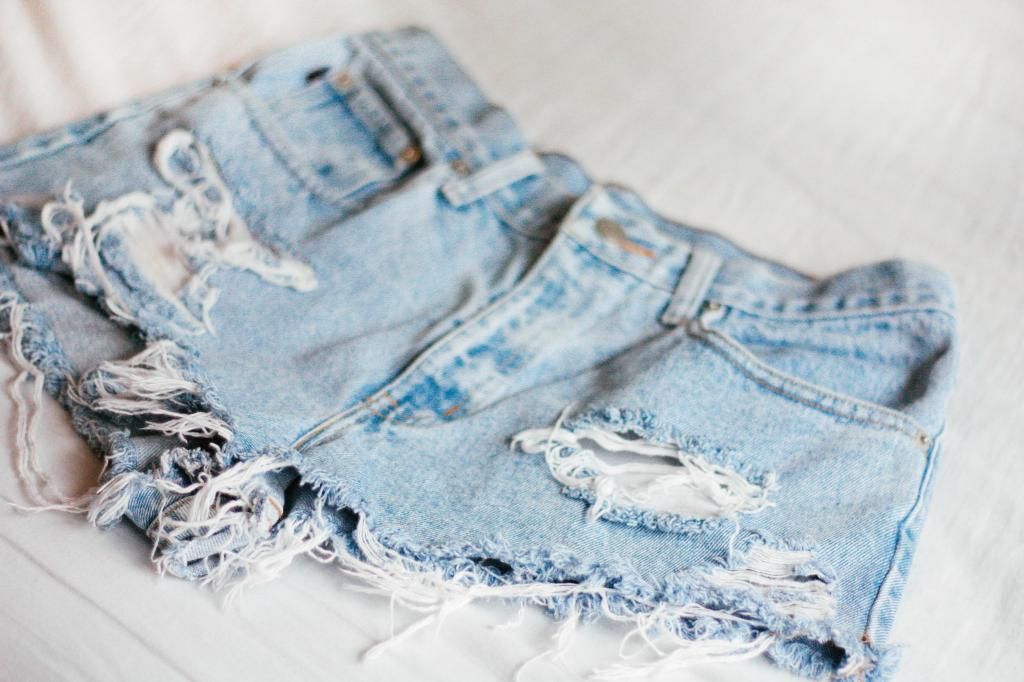 I haven't bought a pair of denim shorts in ages because unless they're some crazy unique color or pattern, I can usually make them for a fraction of the price by cutting an old pair of jeans. I made these ones last year from jeans I bought at value village and then distressed them myself.
K, I have to be honest here. I don't wear this EXACT pair of shorts very often because they're pretty short on me, but I'm still happy with the way they turned out and I thought it'd be a good way to plug the DIY distressed shorts post I'll be doing soon. Keep an eye out, y'all.
And that's that! I know it's pretty simple, but as all of our grade-school teachers told us: KEEP IT SIMPLE, STUPID. That's pretty mean why did they say that.
I usually end up tying a flannel around my waist if it's a bit colder out, or if my shorts are a bit too short in the back. I excluded my shoes because they're just TOO DIRTY TO PUT ON MY BED (What? That isn't a professional studio backdrop? I know, shocking, right?), but I usually wear something similar to
these
or
these
.
BONUS PIC: I totally destroyed my curtains while taking these pictures, so don't say I never did nothin' for ya!
I forget where I first read about uniforms, if I find the post again I'll link to it. But think about it, I bet you have one!